I'm still new to blogging and have not yet found my voice. So I spend a lot of time reading other book blogs to see what is going on the book blog world. Over the weekend I noticed that a lot of bloggers not only recap the prior month but also blog about the reading month ahead. So that's my plan for today! Here are my reading plans for June.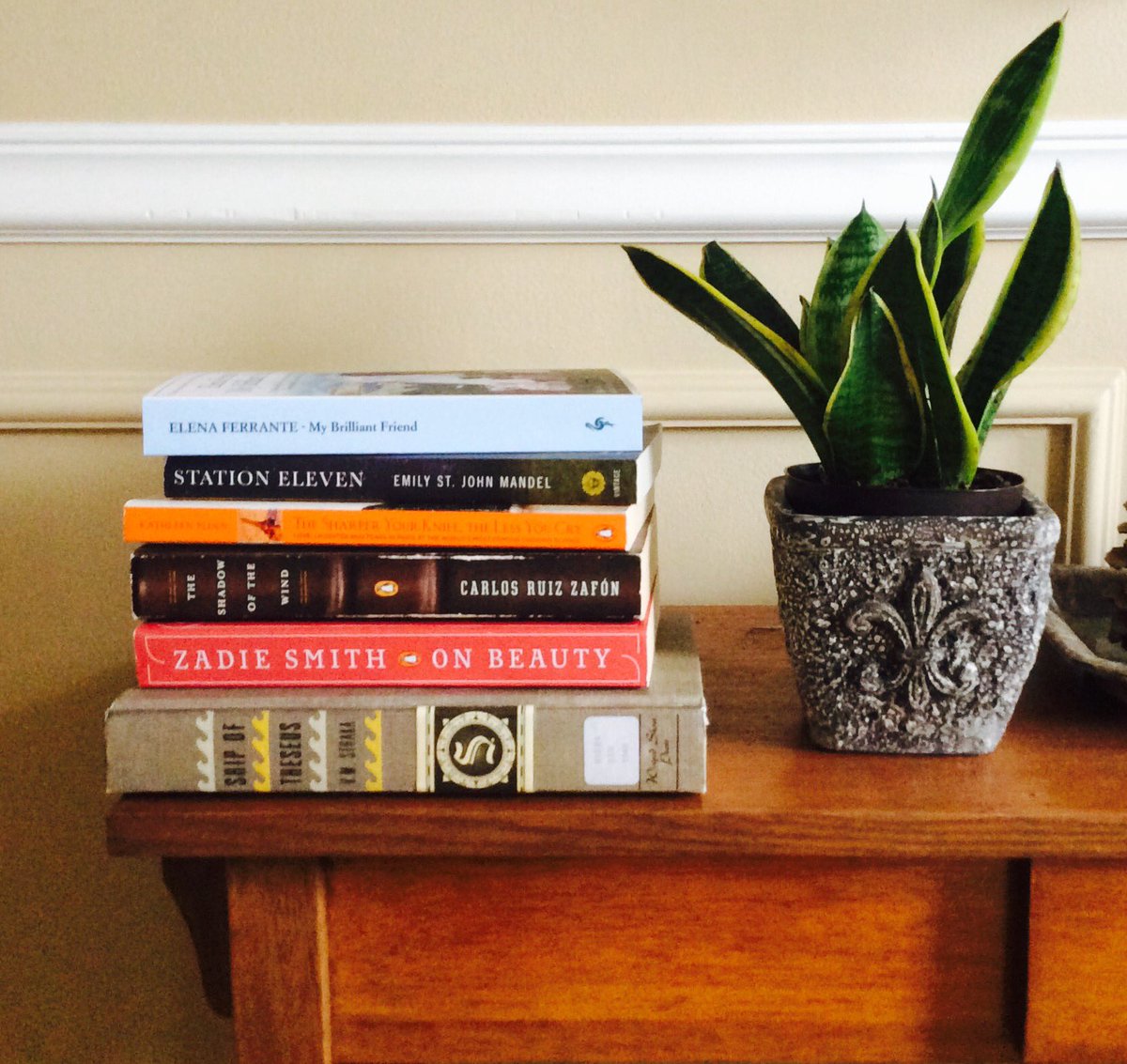 I have three books to finish reading this month: S by J.J. Abrams and Doug Dorst, The Shadow of the Wind by Carlos Ruiz Zafón, Graveminder by Melissa Marr. I'm very close to finishing all of them in the next week or two.
Station Eleven by Emily St. John Mandel and The Sharper the Knife, The Less You Cry by Kathleen Flinn are both for the Book Riot Read Hader 2016 Challenge. My good friend Dayle and my husband both recommend Station Eleven highly so I'm really looking forward to reading it. Another good friend, Daniela, gave me The Sharper the Knife for my birthday years ago and I'm just now getting to it.
My Brilliant Friend by Elena Ferrante is new to my TBR, and is a literary sensation. I've not read a review for it that doesn't praise it. Which makes me nervous. What if it doesn't live up to my expectations? I have been disappointed by sensations before. But this month I'm taking the dive into it. I'll let you know my thoughts at some point! On Beauty by Zadie Smith is also new to the TBR, but I've been looking forward to reading it for years.
And all the books on my June TBR pile are owned by me. I'm still working on the #readmyowndamnbooks challenge.
Other Stuff
Speaking of challenges, I'm participating in another challenge, y'all! This one is hosted by Estella's Revenge. It's the #WeekofReveiws just click on the link to learn more about it or sign up to participate. Basically, between June 13th and 19th I will post a new book review everyday. My reasons for doing this are bit different than Estella's. I'm very shy about reviewing books online even though that is one of the reasons why I started this blog. So rather than putting it off any longer, I'm using the challenge to kick-start my book review writing.
This week I will be writing those reviews, so if you have any tips or suggestions for writing book reviews, be sure to post them in the comments.