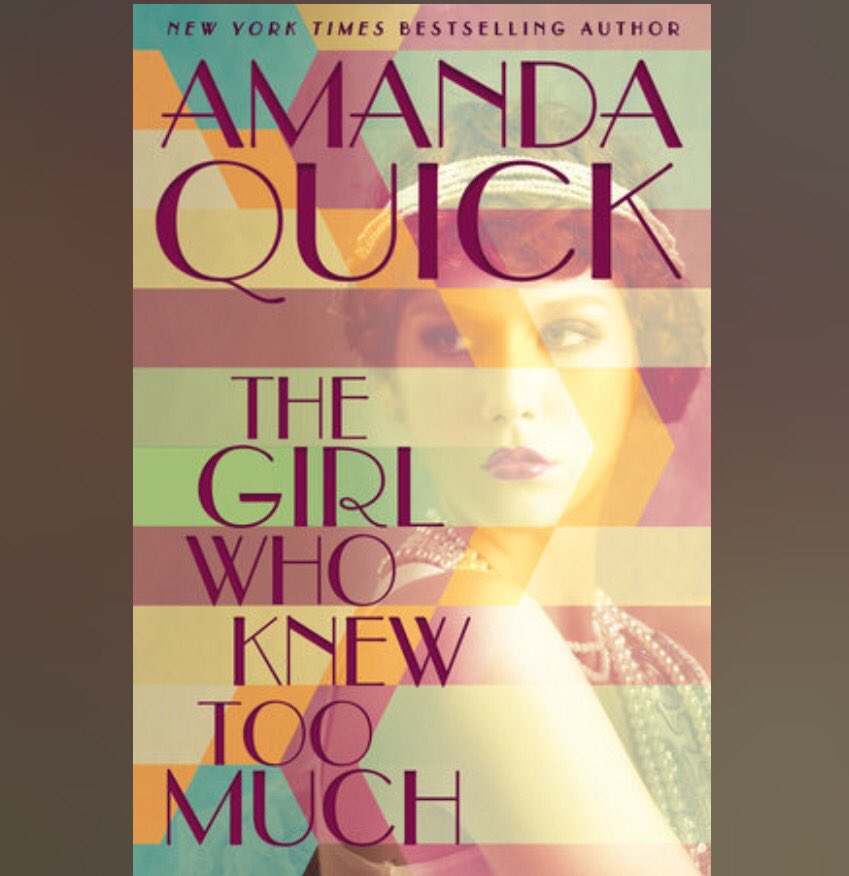 Quickie Book Review
Author: Amanda Quick {AKA Jayne Ann Krentz}
Published: May 2017, Berkley eBook
Length: 368 pages
Genre: Fiction, Romance, Mystery
Source: Public Library
My rating: 2 1/2 Stars
**When Hollywood moguls and stars want privacy, they head to an idyllic small town on the coast, where the exclusive Burning Cove Hotel caters to their every need. It's where reporter Irene Glasson finds herself staring down at a beautiful actress at the bottom of a pool…

The dead woman had a red-hot secret about up-and-coming leading man Nick Tremayne, a scoop that Irene couldn't resist—especially since she's just a rookie at a third-rate gossip rag. But now Irene's investigation into the drowning threatens to tear down the wall of illusion that is so deftly built around the famous actor, and there are powerful men willing to do anything to protect their investment.

Seeking the truth, Irene finds herself drawn to a master of deception. Oliver Ward was once a world-famous magician—until he was mysteriously injured during his last performance. Now the owner of the Burning Cove Hotel, he can't let scandal threaten his livelihood, even if it means trusting Irene, a woman who seems to have appeared in Los Angeles out of nowhere four months ago…

With Oliver's help, Irene soon learns that the glamorous paradise of Burning Cove hides dark and dangerous secrets. And that the past—always just out of sight—could drag them both under…
What I liked:  I loved the setting. The majority of the novel takes place at resort frequented by 1930's Hollywood. And the main character is a gossip reporter. 1930's Hollywood is my catnip. There just aren't enough historical romances that are set in this time frame.
What I didn't:  The title. This is such an obvious attempt to get fans of Gone Girl or Girl on the Train (both twisty thrillers) to pick up this book. Which is fine, I guess. And lately every book has Girl in the title if it is a thriller. Except this book isn't what it implies in the title. It's not a twisty thriller. At all. Also, not enough focus on the romance story line. I'm not sure I ever really felt the connection between Irene and Oliver.
Would I recommend to other readers:   I'm guessing that Quick intends this to be the first in a series of mystery/crime solving romantic duo similar to her Vanza series. In fact, I'll bet this book becomes a part of that series or the Arcane Society series. So, if you are fan of either of those series, you will probably like and enjoy this book. But if you are looking for a twisty, turning thriller you may be disappointed.
I wanted  to love this book. I really did. But. Sigh.  It's more of a reminder of why I quit reading Amanda Quick novels about ten years ago. I was a huge fan of the Regency romances she wrote under this nom de plume, but when she started the different series, I lost interest in her books. And now I want to go back and reread a few of the Regencies to see if they hold up 20+ years later.
Have you read any of Amanda Quick's novels including this one? What did you think? Let me know in the comments below. Happy reading!
**edited to add synopsis.