Here are my stats for April:
Total books read: 10

Number of pages: 3,139

Written by men: 0
Written by women:10
#DiverseAuthors: 0 (I'm really not doing well with this challenge.)
Nonfiction: 1
Fiction: 9
Library books:5
eBooks/Kindle: 5
Audio books: 0
Reread: 1
Did Not Finish (aka DNF):
Harry Potter and the Prisoner of Azkaban (Dewey's Readathon)

The Witches by Stacy Schiff (I need to finish this one. It's been on my DNF list since October.)
The Tenant of Wildfell Hall by Anne Brontë
A Murder in Time by Julie McElwain
Favorite Book Of April:
I can't decide which one I like better. ¯\_(ツ)_/¯
Challenges to Date:
Goodreads: 40/75 (changed the goal from 52 to 75 this month.)
Book Riot Read Harder: 5/24
#ReadMyOwnDamnBooks: 10
Purchased/Acquired in April:
Cowboys Are My Weakness by Pam Houston
I Capture the Castle by Dodie Smith
The Dead House by Dawn Kurtagich (audio book)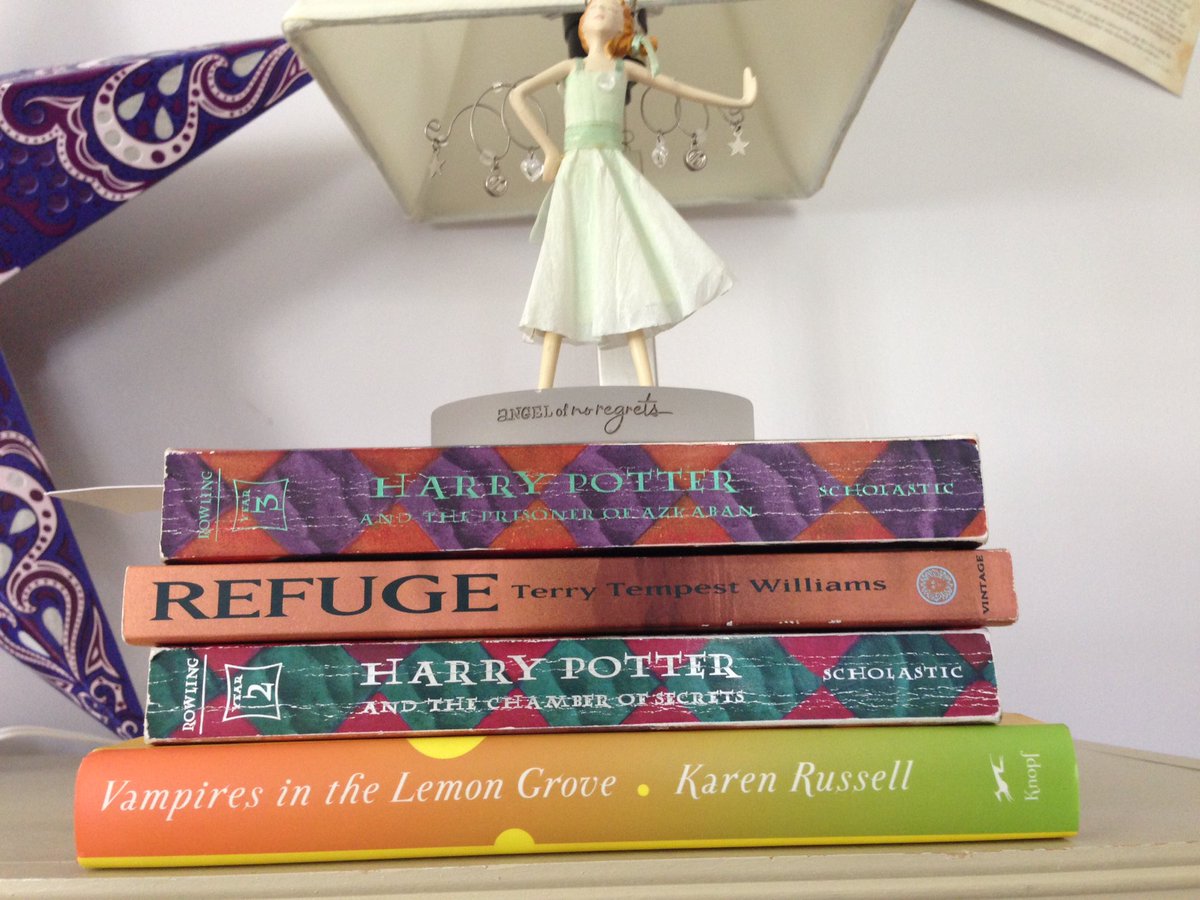 As is becoming a tradition, I participated in Dewey's Readathon on Saturday. As always I had a wonderful time. I read 3 books and started 1. And I manged to meet my reading goal and go just a tiny bit over! 1,022 pages.
The most difficult hours of reading are the last three or four hours for me. It's hard to keep focused on what I am reading during those hours and am easily distracted from it. So I officially gave up during hour 22. So my reading time is approximately 22 hours and 30 minutes. I'm quite pleased with myself.
As always with the readathons I use it as an opportunity to knock some books of my TBR pile and meet goals for the challenges I'm participating in. All the books I read qualified as #ReadMyOwnDamnBooks and two of them will count towards the Book Riot Read Harder 2017 challenge.  I had some yummy food to nosh while reading and my man brought a big flat white from Starbucks, and overall had a fun time. If you are looking for a readathon, I  heartily recommend this one. The next one is scheduled for October.
 Across the Web:
As you may know if you follow my blog April has been dedicated to the Brontë sisters. And I've noticed a lot of Brontë related things happening all across the web this past month. Here is a link to an article about the sisters.
I loved in the South for many years and came to love a hot Krispy Kreme doughnut. Here is a link to an interesting essay about it.
This has been one of strangest stories of the last 10 years. I hope that this article helps put to rest the story of Rachel Dolezal for good.

Blog Posts I Love:
I love posts form fellow bloggers that make me think about blogging in a new way. And also kick me in the butt and up my blogging game. Click on this link.  http://thebookishlibra.com/2017/04/21/discussion-post-why-im-so-slow-to-write-book-reviews
How was your reading and blogging life in April? Did you meet your goals for the month? Did you participate in Dewey's 24 hour Readathon? Let me know in the comments below and be sure to leave a link to your April wrap-up. Happy reading in May.