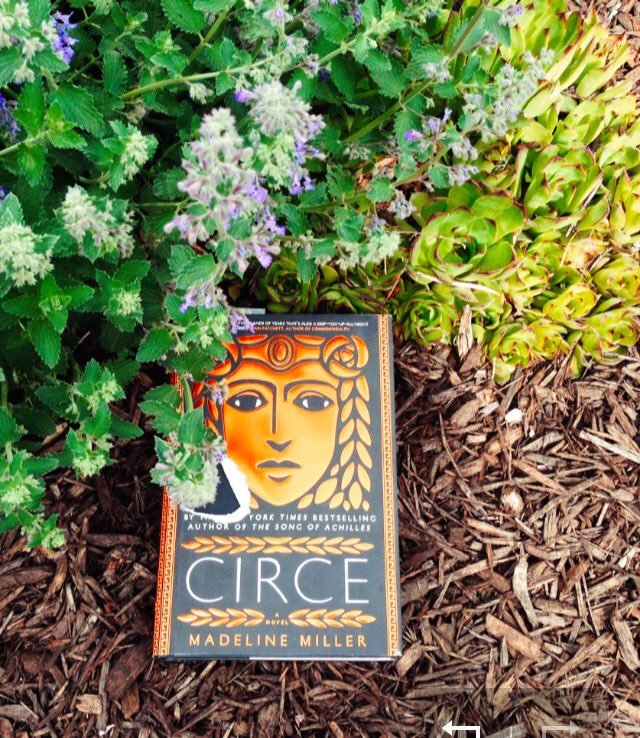 Author: Madeline Miller
Published: April 2018, Hardback
Length: 394 pages
Genre: fiction, fantasy/mythology
Source: I bought it.
Stars: 4 1/2 Stars
Summary:

In the house of Helios, god of the sun and mightiest of the Titans, a daughter is born. But Circe is a strange child–not powerful, like her father, nor viciously alluring like her mother. Turning to the world of mortals for companionship, she discovers that she does possess power–the power of witchcraft, which can transform rivals into monsters and menace the gods themselves.

Threatened, Zeus banishes her to a deserted island, where she hones her occult craft, tames wild beasts and crosses paths with many of the most famous figures in all of mythology, including the Minotaur, Daedalus and his doomed son Icarus, the murderous Medea, and, of course, wily Odysseus.

But there is danger, too, for a woman who stands alone, and Circe unwittingly draws the wrath of both men and gods, ultimately finding herself pitted against one of the most terrifying and vengeful of the Olympians.
"Humbling women seems to me a chief pastime of poets. As if there can be no story unless we crawl and weep." –Madeline Miller, Circe

Like:
I love mythology. And anytime I can read a story based in mythology, I will do it. So, you know this book was at the top of my TBR pile. And Amazon in the week or so before its official release put it on sale for less than $3, so of course I bought it. And I am glad I did.  This is a story which seems to focus on what happens when female rage and power is contained. Circe is a potentially powerful witch and is angry, and this must be contained. It's this rage and power that fuels her story and interactions with various gods and goddesses and humans that visit her island. And this is what Odysseus finds when he happens upon her island's shore.
Not so much:
I really can't think of anything as I write this. It has been a while since I read this.
What I'll remember:
The cathartic power of reading this story. And that it's nice to find someone else who sees Odysseus as the jerk he is.
Do I recommend it?:
Solid yes. This would be such a great thing to read in conjunction with The Odyssey. I enjoyed it so much that I plan on going back and reading The Song of Achilles soon. And I hope that Madeline Miller focuses a novel on Medea soon. That one is rage and power all out of control! I would love to read her take on how Medea's rage and anger and shocking revenge came to be.
Here is a link to my Friday 56 Meme featuring Circe.
Have you read Circe? What did you think of it? Let me know in the comments below.
Happy Reading, y'all!