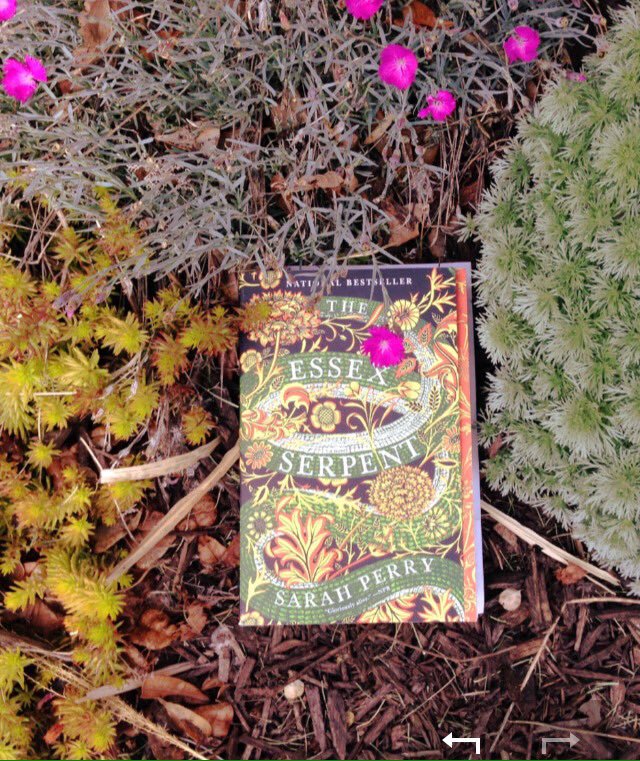 Author: Sarah Perry
Published: Custom House paper back, 2018
Length: 416 pages
Genre: Historical Fiction
Source: #GoodReadsGiveaway
Stars: 4 Stars
Summary:

When Cora Seaborne's brilliant, domineering husband dies, she steps into her new life as a widow with as much relief as sadness: her marriage was not a happy one. Wed at nineteen, this woman of exceptional intelligence and curiosity was ill-suited for the role of society wife. Seeking refuge in fresh air and open space in the wake of the funeral, Cora leaves London for a visit to coastal Essex, accompanied by her inquisitive and obsessive eleven-year old son, Francis, and the boy's nanny, Martha, her fiercely protective friend.

While admiring the sites, Cora learns of an intriguing rumor that has arisen further up the estuary, of a fearsome creature said to roam the marshes claiming human lives. After nearly 300 years, the mythical Essex Serpent is said to have returned, taking the life of a young man on New Year's Eve. A keen amateur naturalist with no patience for religion or superstition, Cora is immediately enthralled, and certain that what the local people think is a magical sea beast may be a previously undiscovered species. Eager to investigate, she is introduced to local vicar William Ransome. Will, too, is suspicious of the rumors. But unlike Cora, this man of faith is convinced the rumors are caused by moral panic, a flight from true belief.

These seeming opposites who agree on nothing soon find themselves inexorably drawn together and torn apart—an intense relationship that will change both of their lives in ways entirely unexpected.
Like:
This book is like reading a big, juicy 19th century Gothic novel. And that, for me, is a good thing.It's all about the clash between religion, science, and superstition. the clash between the Angle in the House and the New Woman.  And what historical fiction novel focused on the 19th century in Britain be without class system tension? And on top of all this it is a beautifully written book. I love all of this in the novel, but the main thing I love is the characters. I love Cora, who is the protagonist. She has survived a crappy, abusive marriage yet manages to come out of it interested in finding who she is and what she wants in this new chapter in her life. She is interested in the world and interested in finding a place for herself in it.
Not so much:
Dr. Luke. Such an unlikable character. Perry did a great job making him almost unbearable. I d have one small complaint. I just wish it was a bit more Gothic. Just a tad bit more unnerving moments like the incident with the girls in the classroom.
What I'll remember:
As I mention above, this book is beautifully written. So, I'm taking away a couple of quotes that I love.
You cannot always keep yourself away from things that hurt you. We all wish we could, but we cannot: to live at all is to be bruised.
And this which seems to be the thesis of the story:
I think the whole village is haunted. Only–I think they're haunting themselves.
And
Lately I've thought not even knowledge takes all the strangeness from the world.
Have you read The Essex Serpent? Let me know what you think in the comments below.