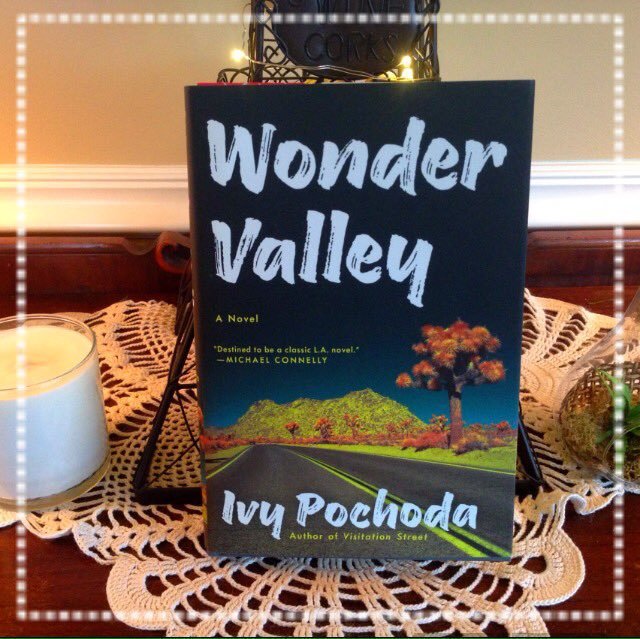 Title: Wonder Valley
Author: Ivy Pochoda
Published: November 2017,  ECCO an imprint of HaperCollins, Hardback
Length: 326 pages
Genre: Contemporary Fiction, Literary Fiction
Source: Quarterly Box (I paid for it.)  #LIT06 #mypagehabit
Summary:

When a teen runs away from his father's mysterious commune, he sets in motion a domino effect that will connect six characters desperate for hope and love, set across the sun-bleached canvas of Los Angeles.

From the acclaimed author of Visitation Street, a visionary portrait of contemporary Los Angeles in all its facets, from the Mojave Desert to the Pacific, from the 110 to Skid Row.

During a typically crowded morning commute, a naked runner is dodging between the stalled cars. The strange sight makes the local news and captures the imaginations of a stunning cast of misfits and lost souls.

There's Ren, just out of juvie, who travels to LA in search of his mother. There's Owen and James, teenage twins who live in a desert commune, where their father, a self-proclaimed healer, holds a powerful sway over his disciples. There's Britt, who shows up at the commune harboring a dark secret. There's Tony, a bored and unhappy lawyer who is inspired by the runner. And there's Blake, a drifter hiding in the desert, doing his best to fight off his most violent instincts. Their lives will all intertwine and come crashing together in a shocking way, one that could only happen in this enchanting, dangerous city.
I want to like this book. In fact, I want to love this book. I do! But I don't. It's beautifully written and has some interesting ideas about connections, and the people who end up on skid row in L.A. Plus cults in the California desert (what is it about cults lately?).
What I Like: The cover. I love the book cover. And I like Ren. He is such a damaged soul and I want him to escape and succeed in life. And I like Grace (A minor character) who takes one of her kids and saves him from the crazy out in the desert. I would like her more if she had saved both of her kids. I like the naked guy running through morning commuter traffic. It's an attention getting hook, for sure. His run and why he did it is what keeps me reading this book until the bitter end.
What I Don't Like: I wish I liked this book more than I do. It seems so superficial and….well. I could say more about what I don't like but it seems a bit too insulting. And Tony. I hate how his story turns out.
Would I Recommend: Well, sure. But save your money and borrow a copy from your local library. Or buy the paperback edition from a used book store.
Other blog posts of mine which mention Wonder Valley:
Click here for It's Monday, What Are You Reading?
Click here for November 2017 Wrap-Up
Has anyone else read this? If so what do you think of it? Have I missed something in my reading that I should reconsider? If you liked Wonder Valley explain why or link to your book review in the comments. Because I would love to see what someone else has to say about this book.
Happy reading, y'all.