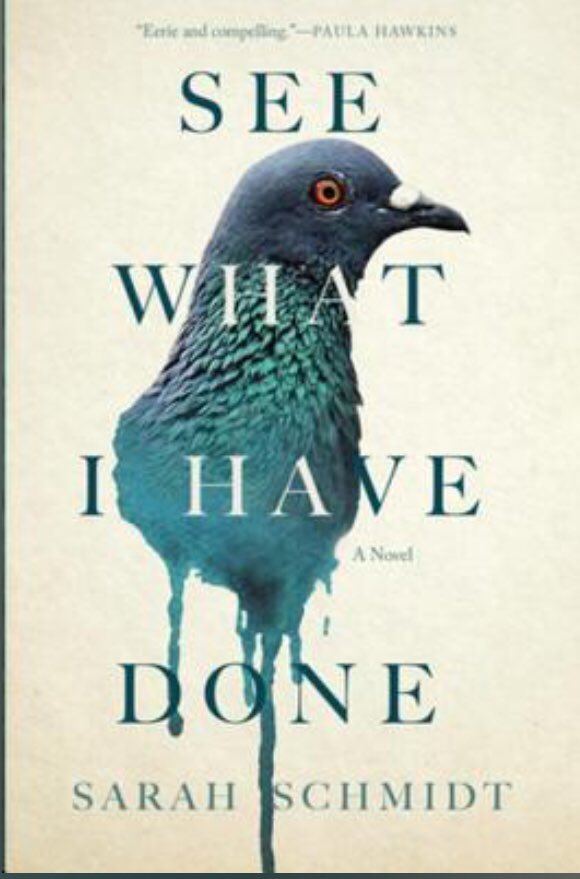 Author: Sarah Schmidt
Published: August 2017 by Atlantic Monthly Press eBook
Length: 328 pages
Genre: Fiction, Mystery, Crime, Thriller
Source: Public Library
My rating: 3 1/2 Stars
Synopsis:
In this riveting debut novel, See What I Have Done, Sarah Schmidt recasts one of the most fascinating murder cases of all time into an intimate story of a volatile household and a family devoid of love.

On the morning of August 4, 1892, Lizzie Borden calls out to her maid: Someone's killed Father. The brutal ax-murder of Andrew and Abby Borden in their home in Fall River, Massachusetts, leaves little evidence and many unanswered questions. While neighbors struggle to understand why anyone would want to harm the respected Bordens, those close to the family have a different tale to tell—of a father with an explosive temper; a spiteful stepmother; and two spinster sisters, with a bond even stronger than blood, desperate for their independence.

As the police search for clues, Emma comforts an increasingly distraught Lizzie whose memories of that morning flash in scattered fragments. Had she been in the barn or the pear arbor to escape the stifling heat of the house? When did she last speak to her stepmother? Were they really gone and would everything be better now? Shifting among the perspectives of the unreliable Lizzie, her older sister Emma, the housemaid Bridget, and the enigmatic stranger Benjamin, the events of that fateful day are slowly revealed through a high-wire feat of storytelling.
Lizzie Borden took an axe
And gave her mother forty whacks
When she saw what she had done
She gave her father forty-one
I think this rhyme is familiar to almost every school kid in America. I skipped rope while chanting this as a child almost a full continent and 80 years away from Fall River, Massachusetts. The fascination with the murders lingers on for so many, including me. So much so that I had a long wait to re-check this book out of my local library.
What I Like:
I love a story based on infamous murders. And this one is a crazy tale. The writer, Sarah Schmidt, is an Australian and brings an outsider perspective to this story. She explores the Borden family and it's dynamic through the senses. The overwhelming heat of that hot August day. The sweat and odor of unwashed bodies. The spoiled mutton broth that they were all forced to eat due to Andrew Borden's stinginess. The sickness that pervades the house due to that rotten mutton broth. The rotting pears in the yard. So, yes, this family is sick and full of decay.
I also like that there are so many 1st person perspectives for the event. We have Lizzie's, Emma's and Bridget the maid's. We also have Benjamin's, a man hired by Lizzie and Emma's Uncle John to kill Andrew Borden. Like any mystery, we need different perspectives to get to the truth of what happened that day.
What I don't love:
Some of the same things I like about the story, I dislike too, if that makes sense. The descriptions of the decay and sickness and rot of the family become overwhelming. I'm also not a fan of the inclusion of Benjamin in this story. I'm not sure we need his point of view of the events. At the end he causes action, but again, not sure it needs to be him that causes that event?
Would I recommend?:
Yes. Especially if you enjoy true crime that we can't solve 100 plus years later, then I think you will enjoy this story.
**Edited to add:   After I posted this review I listened to a podcast about Lizzie Borden. Click on this link to The History Chicks see the show notes and listen to the podcast.
Have you read See What I Have Done? What did you think of it? Let me know in the comments below.