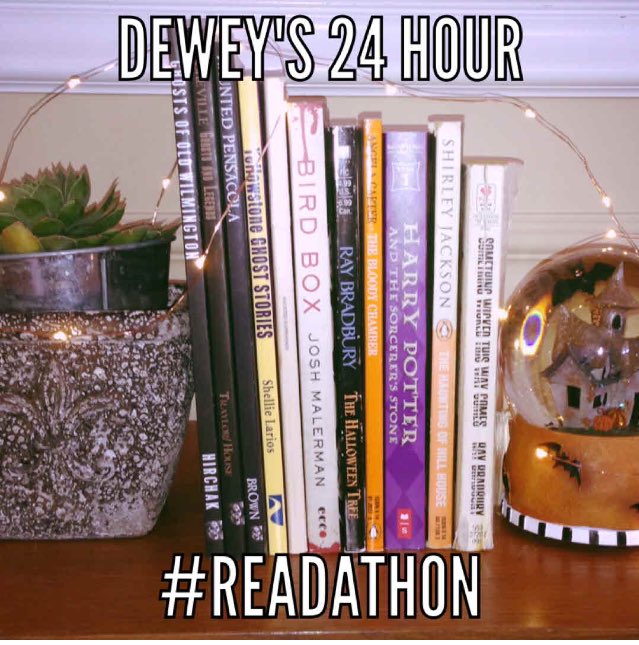 Follow me on Twitter @lbessire1 for updates!
6 am MDT:
So it begins! My goal is to read 1000 pages today. I'll be updating my progress on this post throughout the day. I'll also be participating in challenges with other bloggers and will be posting about those on Goodreads, Twitter, and Litsy. Wish me luck!
8:35 am: I've just finished my first book, now ready to start book two. Yellowstone Ghost Stories.
10:30 am: just finished my second book. Now on to book three! Haunted Pensacola!
12:30 pm: I actually didn't get started on Haunted Pensecola until 11:00 am. I was busy cheering and commenting all over social media. But I did just finish Haunted Pensacola. It was a very quick read! Now I'll get ready to start The Halloween Tree after a short break to shower and make myself a snack. I hope you all are enjoying this readathon as much as I am.
3:20 pm: I didn't get started with the Halloween Tree until 1:30 pm. And I finished it at 3:20pm. Reading it I remembered what a beautiful write Ray Bradbury is. After reading the rather dry, and in some cases, bad prose of the true haunting books, bradbury's is poetry. Such loveliness at the sentence level. Sigh. I want to write that beautifully when I grow up. Up next in my reading is Bird Box. I'm looking forward to this one.
8:20 pm: just finished my fifth book! The Bird Box is terrifying. I'm not sure I'll ever recover from reading it.
9:00pm. Starting my sixth book. Harry Potter and the Philospher's Stone. It's been a few years since I last read it, and, after the Bird Box, I need a less intense read!.
2:00 am: well, I'm done. I'm about 40 pages shy of finishing HP, but I'm too tired to finish the book. And that's okay because I met my goal of reading 1000 pages. Sometime later today I'll write up my wrap up post for the readathon. Good luck to all of you still reading. I know you can meet yor goals.