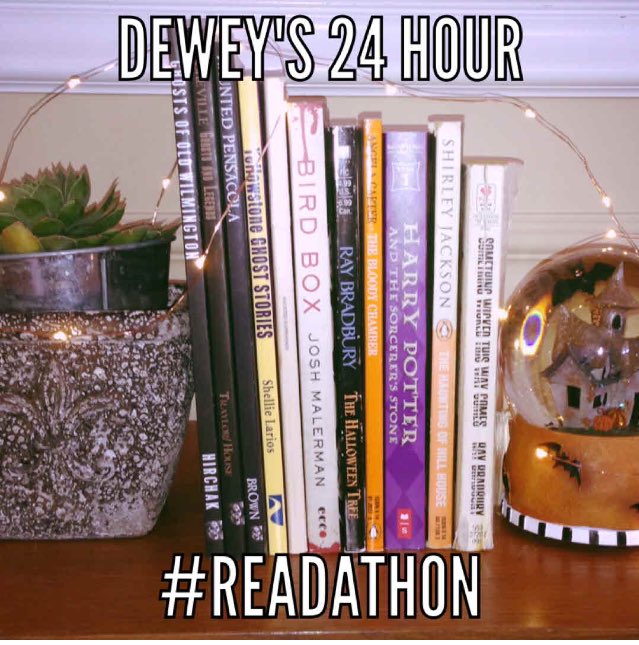 I'm so excited about this weekend because it's  Dewey's 24 Hour Readathon. If you are unaware of this readathon, click on this link for more information. This is my second, so I'm still a newby at this readathon business.  I had such a good time in April and I'm looking forward to this weekend. I'm planning on cheerleading my fellow "athoners," eating some fun treats, and drinking lots of coffee all while reading some fun books.
This readathon, for me, has a theme. And shockingly,the theme is Halloween. I'm not very original, you see. So, I have put together a pile of books that will probably scare the crap out of me early on Sunday morning. And I picked some books that I've picked up at various gift shops on different road-trips I taken over the years. And these books tend to be true ghost stories. I also have some scary fiction reads, and I also am including the first Harry Potter. The last readathon I tried to read some longer reads and found myself feeling discouraged by all the tweets and posts celebrating every book they finished. I just one book last time, and I want to finish many books this time! So I've gathered shorter reads, and even a re-read such as Harry Potter.
Here is my list of books:
Do I think I'll finish this entire stack? No, I don't. And that's okay. Having a wide selection to read according to my mood is my goal. And the day of, I may just walk over to my book shelf, grab a book, and read that instead. Keeping the day enjoyable is my goal.
So what do you think? Do you participate in readthons like Dewey's? What do you do to make your readathon successful? If you have any suggestions or questions about my book list, let me know in the comments below!