July was not a good reading or writing month for me. I read only two books in the entire month. Two! And this month I fell off the #ReadMyOwnDamnBooks wagon and I "acquired"a number of of books. Book boxes arrived on my doorstep along with settlements from Amazon and book sales at small town libraries. The universe wanted me to get books, so it's totally not my fault. Plus I did not post to my blog  as much as I had planned in June. Tomorrow I will list my writing and reading plans for August. In the mean time,  here is a wrap up of July!
What I read:
In a Dark, Dark Wood by Ruth Ware (paperback)
The Silkworm by Robert Galbraith (audio book)
Total Pages read: A whopping 807.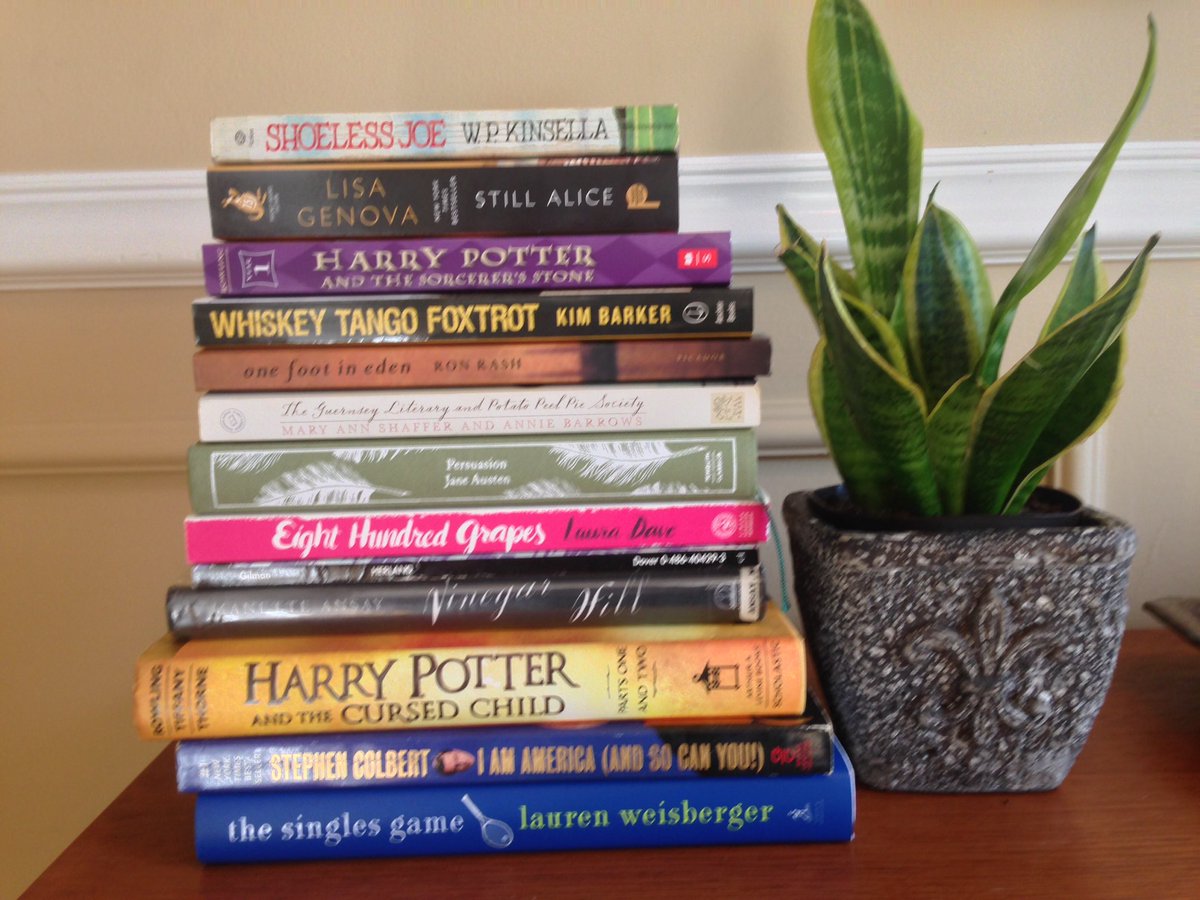 New Arrivals in July: 
In a Dark, Dark Wood by Ruth Ware
Roses and Rot by Kat Howard (eBook)
Shoeless Joe by W.P. Kinsella
Whiskey Tango Foxtrot (The Taliban Shuffle MTI): Strange Days in Afghanistan and Pakistan by Kim Barker
Herland (The Herland Trilogy #2) by Charlotte Perkins Gilman
Vinegar Hill by A. Manette Ansay
I Am America (And So Can You!) by Stephen Colbert
Persuasion by Jane Austen
One Foot in Eden by Ron Rash
Harry Potter and the Cursed Child by J.K. Rowling, John Tiffany, Jack Thorne
Quarterly Lit Box:
Still Alice by Lisa Genova
Eight Hundred Grapes: A Novel by Laura Dave
The Singles Game by Lauren Weisberger
Library Books:
The Silkworm by Robert Galbraith (audio book)
Career of Evil by Robert Galbraith (audio book/eBook)
A Darker Shade of Magic (Shades of Magic #1) by V.E. Schwab (EBook)
July on my Blog:
Time Travel Novels: My Top Ten
Review of In a Dark, Dark Wood
Around the Blogsphere:
Just a few links to posts of bloggers I follow that I particularly liked in the past weeks.
Sally Allen wrote a lovely piece about her struggle reading in unsettled times. Click Here.
And here's a link to a post at Taking on a World of Words discussing her book clubs reaction to The Invention of Wings. Click here.
This one is from Read Diverse Books and discusses lessons learned in the first few months book blogging. As a newbie to this world I appreciate any help I can get. click here.
Across the internet
These are links to articles I've read online and want to share.
Here is a link to a list of 10 Habits of Book Lovers that Non-Readers Don't Understand. I'm not sure this is true, but it's always nice to see that I'm not alone in my "odd" behaviors. Click here.
I don't often think of MTV as a platform for articles, but I ran across this one by Brian Phillips earlier this month and fell in love with it. It's titled Lost Highway: Aliens, Archeology, and the Atomic Bomb-A Road Trip through the Ruins of the American West.  It's beautifully written and intersects with some of my favorite urban legends and modern mythologies. One day I'll write about my own visit to Area 51! Warning, it's a long article, but well worth the read.   Click here.
Have you fallen off the wagon? Have you read any of the books, blog posts, and articles that I've listed? If so, what do you think of them? Make sure to let me know in the links below. Cheers, and happy reading in August.