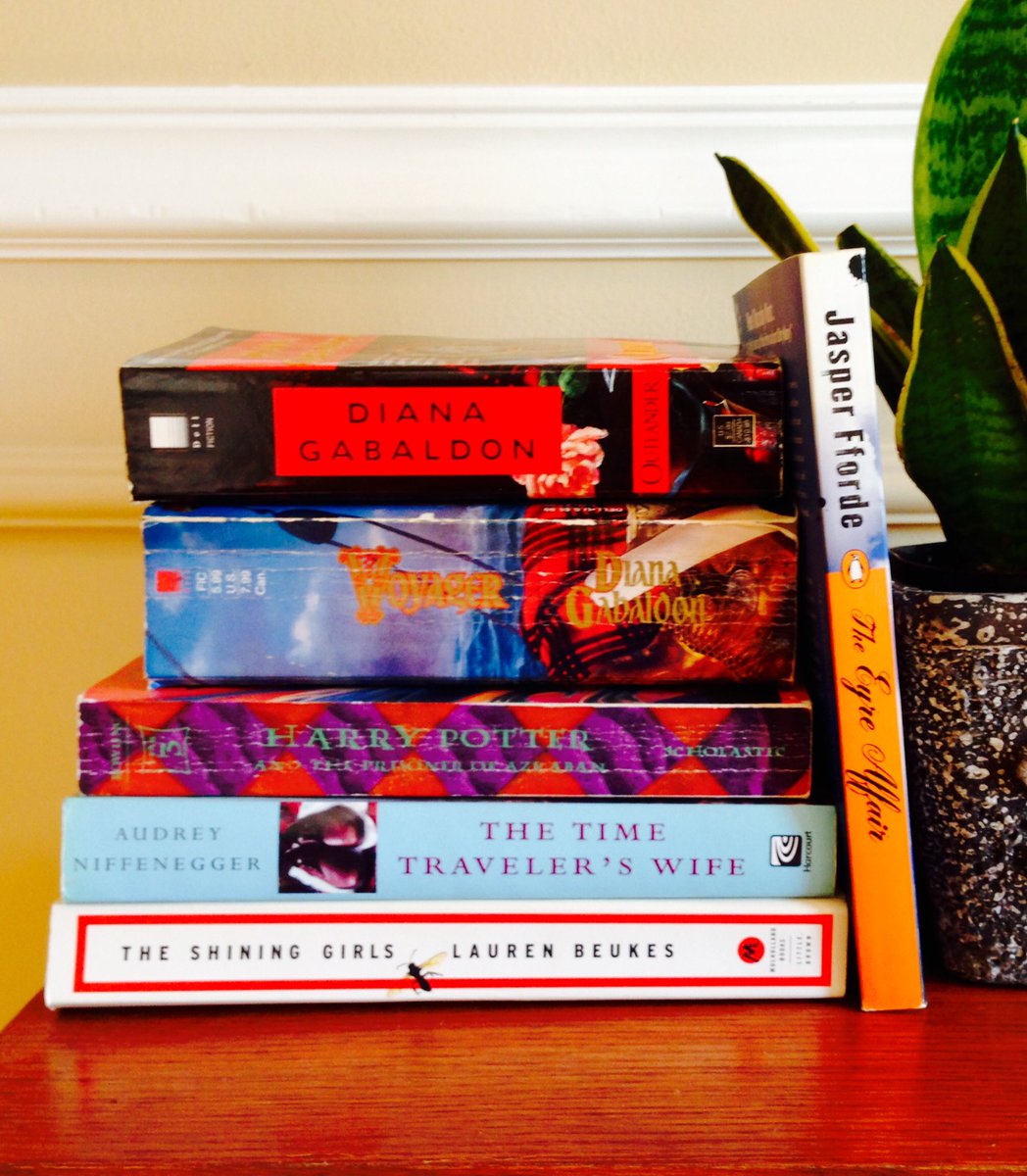 I love a good time travel story. I've loved time travel stories since I first saw The Time Machine on the afternoon movie as a little girl. And I'm totally talking about the 1960's version with Rod Taylor (The Morlocks, y'all, the Morlocks!) And I love novels that allow the main character to travel in time, too. So, I thought it might be time for me to list my ten favorite time travel novels. So here is my list in no particular order.
Green Darkness by Anya Seton. My favorite aunt gave me this book to read when I was a teen (Hi, Aunt Jana Lee!) And I loved it so much. It is, at it's heart, a reincarnation story. A group of people come together and are able to remember their previous lives and resolve their issues. So, the characters do not travel physically back in time, but mentally. It was written in the early 1970's and so doesn't hold up as well as other stories. But I would recommend this book
The Lady of Hay by Barbara Erskine. This was originally published in the mid eighties, and I read it the first time around that time. Like Green Darkness, this novel is about reincarnation and remembering of the characters past lives. And like Green Darkness it does not hold up well But I still like this story. Erskine has written a number of time travel novels, but I haven't read them. I think I should so I can see if she improved her characters.
The Doomsday Book by Connie Willis. This book was recommended to me by a sociology professor years ago. And I loved it. It is the winner of a number of awards. A female academic travels back in time to the Middle Ages. It doesn't suffer from the problems of Lady of Hay and Green Darkness.
Timeline by Micheal Crichton. This book came out not long after I read The Doomsday Book, and it covers similar territory.
A Knight in Shining Armour by Jude Deveraux. This one spans two genres: fantasy and romance, with a emphasis on romance. Both the hero and heroine travel back and forth between their times before finally coming together and living happily ever after. This is for fans of romance novels.

Outlander Series by Diana Gabaldon , especially books 1 and 3. I love Outlander. It is one of my favorite novels of all time. The basis of this series is the heroine walks through a stone circle and travels back to Jacobite Scotland. There she falls in love with a Scottish warrior. So it too is a romance mixed with historical fiction, fantasy, and adventure novel. And these books are hefty. I think all of them, including the books in the series I haven't read, are close to a 1,000 pages. I have read the first four novels and they have strengths and weaknesses like all novels.  My favorite two of the series are books 1, Outlander  and 3, Voyager. I would recommend these novels to everyone.
Harry Potter and the Prisoner of Azkaban by J.K. Rowling. I love how Rowling focuses on time travel in this novel. And, afterall, the readers of Harry Potter and even Harry and the rest of the characters realize that time is running out, and the battle against Voldemort is drawing near.
The Time Traveler's Wife by Audrey Niffenegger. I had high expectations for this novel when I read it, but it didn't quite meet them? I read this on a break between semesters and I rushed it, I think. I need to re-read this one and see what I think of it when I can take my time reading it.
The Shinning Girls by Lauren Beukes. This one straddles the horror and fantasy genres. I loved the framing of this story as a time travel story.
Kindred by Octavia E. Butler. I read this for the first time a few weeks ago and it is just amazing. This is a book that if I had paper copies to hand out to people on the street, not to mention friends and family, I would. Read it, read it, read it!
Honorable Mentions (I've read them, but not really my favorites.)
The Eyre Affair by Jasper Fforde. I will re-read this series. It is about time travel and novels. It didn't really grab me when I first read them, and I don't know why. Because I should adore this series. I need to give them a re-read soon.
A Discovery of Witches by Deborah Harkness. Books 2 and 3 of this series are focused on the time travel. I just didn't love this series, and I should. This is the kind of fantasy story I love. So I'm sad that I'm not a fan of the series.
Any Susanna Kearsley. Sigh. Just not a fan of this writer, and I've read two or three of her time travel novels and am quite disappointed in all of them. So I do not recommend her novels at all.
So what do you think of time travel novels? Are you a fan? If not a fan, why? I'm genuinely curious. Do you have any recommendations for me? If so, let me know in the comments.