It's Monday! What Are You Reading? is a place to meet up and share what you have been, are and about to be reading over the week.This meme is hosted by Kathryn at the Book Date.  I'll list the books I've read over the past week, and my plans for the coming week.
Be sure to visit Book Date and see what other bloggers are reading!
It was a cool and rainy weekend here in the Rockies, which makes it perfect for reading! I finished two books this week and both count towards #ReadMyOwnDamnBooks and #SmashYourStacks reading challenges.
Beautiful Ruins by Jess Walters is a really great book. In fact, I think it is one of my favorite reads so far this year. It is Old Hollywood gossip, New Hollywood desperate, pretty boys who have skated by on their good looks for years, and Italy all rolled up  together and tied with a bow. And all of it comes together in the end. It's not perfect, but it's damn close. I would be a great summer vacation read
American Ghost is one was not at all what I expected when I bought it for my Kindle a year or two ago. I love true haunting and ghost stories , and I used to watch those TV shows about it all the time. This book is based on a famous haunting in Santa Fe, NM. The twist? The author is a descendant of the ghost reputed to be haunting the mansion/hotel. It's an intriguing premise. It's a fascinating look at hauntings, Jews settling the West, and family history.
Reading this week.
This week, I'm planning to read at least three books.
Welcome to Temptation. It's one of my favorite romance novels of all time. I'm reading for my Skype bookclub.
Kindred has been on my TBR pile for  a while. I love time traveling novels and this one comes highly recommended.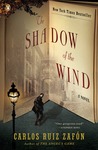 Shadow of the Wind. I'm about a third of the way through this book, so I want to finish it this week. I like it, but other books came up that I wanted to read to and this one just drifted to the bottom of my currently reading stack.
What are your reading plans this week? Leave your comments and suggestions in the comments. Have a great reading week.