It's Teaser Tuesday! What is Teaser Tuesday you ask? Well, Teaser Tuesday is a weekly bookish meme, hosted by MizB of Books And A Beat.
Anyone can play along! Just do the following:
• Grab your current read
• Open to a random page
• Share two (2) "teaser" sentences from somewhere on that page
• BE CAREFUL NOT TO INCLUDE SPOILERS! (make sure that what you share doesn't give too much away! You don't want to ruin the book for others!)
• Share the title & author, too, so that other TT participants can add the book to their TBR Lists if they like your teasers!
Here's my teaser:
"They're spirits," she said, in a low voice. "Souls. When a heart breaks, a firefly is born."  Page 67, Rooms by Lauren Oliver.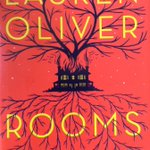 This book has been on my TBR pile for awhile. And as I was putting together a reading list for the Read Harder 2016 book challenge I decided to use it for the first task. And, since I own a physical copy of the book I'm also reading it for the #readmyowndamnbooks and #smashyourstack challenges. So far this book has been very interesting. I like how it frames the story and includes multiple points of view. I'm not as far into it as i would like to be, but I'm gonna read it this afternoon.
PLEASE LEAVE A COMMENT with either the link to your own Teaser Tuesday post, or share your "teasers" in a comment here (if you don't have a blog). Thanks!